Hawaii Wedding Photographers For Your Hawaii Wedding - Wedding Pictures & Photos At Hawaii Weddings By Wedding Photographers Hawaii
Wedding Photographers Hawaii is Hawaii's professional wedding photography team that preserves your beautiful memories made in Hawaii. We specialize in Oahu, Maui & Kauai weddings and are available islandwide. Church weddings, beach weddings and Hawaii weddings at many spectacular scenic locations.

Hawaii wedding photographs are your preserved treasured moments in time. Your Hawaii wedding photographs are a lasting vision of your sacred day. We strive to capture your Hawaii wedding day perfectly and help make your Hawaiian wedding dreams come true.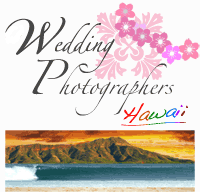 Beautiful moments in Hawaii that last forever...
A Hawaii wedding is perhaps the best of all destination weddings. Hawaii vacations are perfect for friends and family members. A wedding in Hawaii is just what you dreamed of... Hawaii's blue sky, rainbows & warm blue ocean with sandy beaches. Hawaii is the perfect environment with awesome scenery. We can help you choose your Hawaii wedding location on the island of Oahu, Maui, Kaui or another Hawaiian island. We provide wedding coverage on all Hawaiian Islands and at Hawaii's most scenic places. Hawaii beach wedding or church wedding, we can help you with your wedding plans. Each Hawaii wedding is unique. Our Hawaii wedding photographers have the passion & dedication to preserve your precious Hawaii wedding memories.
Our Hawaii wedding photographers provide photojournalistic, traditional, comtemporary & creative styles of photography. We capture the special moments of joy and emotion at your Hawaii wedding. We incorporate artistic styles into your photographs and take a mixture of posed and non posed photographs. We also capture the candid moments between Bride and Groom. You can choose a Honolulu church wedding, Oahu beach wedding, Maui beach wedding or Kauai wedding. There are many scenic locations throughout Hawaii. Our Hawaii wedding photography packages make your wedding planning easy. Our experience in Hawaii since 1990 helps with your Hawaii wedding plans. We can assist you with finding Hawaii churches, Hawaii ministers, Hawaii beach wedding locations, a Hawaii wedding lincense, Hawaii wedding coordinators, wedding dresses, wedding flowers and other things you may need for your Hawaiian wedding. You will enjoy getting married in Hawaii and the cherished moments at your Hawaii wedding are something you can treasure. Your Hawaii wedding photographs will be the perfect gift to share with your family & friends. Aloha, we look forward to seeing you here in Hawaii.